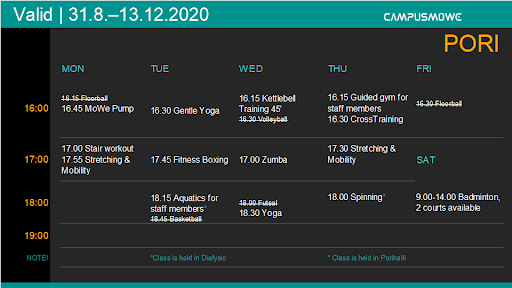 CampusMoWe Autumn Calendar. Unfortunately sport game are cancelled for now due to Covid -19 pandemic.
Access Calendar of Rauma here (link): RAUMA
MoWe Calendar
MoWe Calendar keeps you updated with CampusMoWe services and events! Bookings can be done through MoWe Calendar either in application or websites. Press Open Calendar to make bookings now!
​​​​​​​
---
MoWe Calendar gives you updated information of group fitness classes, game sessions and events. Calendar gives you access to book your place to available classes, game sessions and events.
The availability of Agora hall at SAMK (Pori) may change weekly, so make sure you will check the calendar regularly. We aim to inform of all possible changes as early as possibile.
All services at MoWe Calendar are targeted from beginner level to advanced, so everyone can join with their own ability level. On the instructed sessions, our professional instructors will help give you quidance and options.
Physcial activities will influence positively to your whole wellbeing and being sufficiently active for your health, you will be able to function and enjoy your regular daily activities.
Colour codes and icons of MoWe Calendar
The group fitness classess and training sessions at MoWe Calendar are classified with different colour codes and icons. The codes are divided on: Strenght training, Cardio & Endurance training and Body & Mind wellbeing. Sport & ball games are coded with green colour and courses & workshops with blue.

STRENGTH TRAINING – builds total body functional strength, muscular endurance and promotes the building of lean muscle. The strength sessions are all about the "load effect" - performance under pressure using your own body weight to moderate loads. You'll have low to medium repetitions and working close to fatigue using a variety of training tools.

CARDIO & ENDURANCE TRAINING– improves your aerobic capability and overall fitness. Endurance training keeps your lungs and circulatory system healthy and can reduce the risk of many diseases such as diabetes, heart disease and stroke. These sessions increases your breathing and heart rate by combining high and low body weight exercises with minimal use of equipment.

BODY & MIND TRAINING – improves your flexibiliy, balance and mindfullness, which are important components for many everyday-life activities. These sessions helps your body and mind to recover and relax.

SPORTS & BALL GAMES TRAINING - are based on enjoyment and fun through differenct social sports and games. These sessions improves your technique, agility and coordination and are targeted from beginner level to the advanced level.

​​​​​​​COURSES & WORKSHOPS - gives you opportunity to try different activities and training sessions. These are great sessions to challenge yourself and try something new!
Have an idea of new training session or workshop? Let us know your suggestions: (link: Contact)
Open MoWe Calendar (link: MoWe Calendar)
---
---
---
---
---