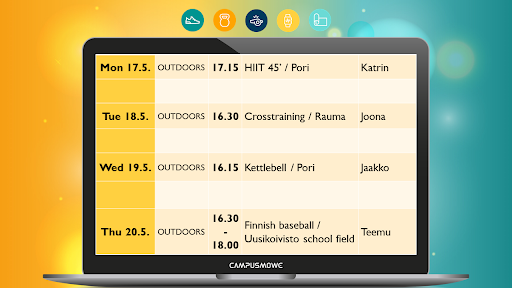 Classes are held outdoors, but if the weather is rainy, we can move indoors (Agora hall in Pori and Merimäki sports hall in Rauma).
Outdoor classes and Finnish baseball shifts during 17.-21.5.2021
Here is this week's MoWe Calendar!

We offer classes outdoors at Pori and Rauma (if it's raining, we move indoors)! It's time to play Finnish baseball also!

All classes are free of charge but ooking is required so move to online shop and get your own MoWe Card! Enrollment is available 2 days before the class.
---
Classes are held indoors if the weather is bad!
Classes are held in Agora or Merimäki sports hall. If the class is held indoors, you'll find the updated info from the CampusMoWe app.
Please remember, that you should use a mask on hallways and lockers etc. The workout can be done without a mask. Remember to maintain a safety distanvce for other participants.
Equipment needs to be cleaned after use!
---
Finnish baseball
Finnish baseball shifts are held at Uusikoivisto school field:
on Thursday 20.5. at 16.30-18.00
on Thursday 27.5. at 16.30-18.00

​​​​​​​See the map to the field (link): Uusikoivisto school field​​​​​​​

CampusMoWe offers equipment! Players in all level are welcome :)
---
Purchase a MoWe Card and start to make bookings!
Download a CampusMoWe mobileapplication if you don't have it yet!
Log in with HAKA authentication and purchase a MoWe Card May 0€ from the online shop.
Move to Calendar tab and choose the class that you want to join! Press the green Enroll to event -button and your booking is done! Booking is available 2 days before the class.
You'll find a detailed info about the classes from the app!
​​​​​​​Pori classes are held at the SAMK campus parking place in front of the Porin leipä bakery (See the map: Parking place).
Rauma classes are held at the SAMK Merimäki campus yard (see the map: Merimäki)
---